Exclusiva Mallorca - living on one of the most beautiful islands in the world
Many people cherish the dream of owning their own home in Mallorca. No wonder, since the climate, the nature and the Mallorcan lifestyle provide unique conditions. If you are looking for a property in the southwest of Mallorca for your own use or to rent out, then you have found the right partner in Exclusiva Mallorca. We can arrange attractive properties for you throughout the southwest. As an owner, you are also welcome to contact us - together we will find the right buyer for your house, finca or flat.
Introducing ourselves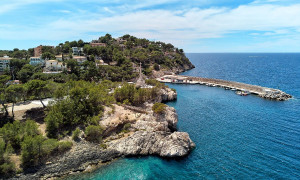 Exclusiva Mallorca was founded by Volker Hunzelder. He has been working in the real estate industry since 1998 and can draw on several years of specialist knowledge and expertise. We place great emphasis on service and strive for intensive and long-lasting customer contact. Especially when dealing with long distances, trust and transparency are important cornerstones for a successful property purchase or sale. We are happy to answer all your real estate questions and pay attention to discretion and smooth processing.
In addition to our brokerage activities, we have gained a great deal of experience in construction management, which is why we are also available to advise you on construction projects. With us, you get German construction support and a reliable partner. A permanent presence on your part is not mandatory - we will gladly supervise the building project on your behalf.
In addition to our know-how in the real estate sector, we also know the island very well. We have been calling Mallorca home for over 25 years and know the property market and its peculiarities. From our office in Santa Ponça, we will find the right property for you in south-western Mallorca. From Palma to Port d'Andraxt and throughout the municipality of Calvià, we always have attractive properties in our real estate portfolio.
Beautiful Mallorca

Santa Ponça and the entire municipality of Calvià are our home. The southwest of Mallorca is characterised by its balanced climate and offers the best quality of life all year round thanks to the pleasant temperatures from Palma to Port d'Andraxt. The sea, the beaches and the Tramuntana mountains are further reasons for owning a home in Mallorca. The southwest also impresses with its proximity to the airport and is therefore very suitable for weekend trips.
These reasons speak for us
Expertise - we have been in the real estate business for almost 25 years. We know the Mallorcan property market and also how to conduct property transactions on the island.
Local knowledge - we are rooted in the region. Santa Ponça and the surrounding towns have been our home for many years. We know our way around and can give you the best advice on locations and properties.
Trust - if you want to buy a property on Mallorca from Germany, trust and transparency are important prerequisites. We attach great importance to an intensive customer relationship. This way we can offer you the necessary security in the buying process.
Talk to us
We would be happy to assist you with the purchase or sale of a property on Mallorca. Write to us or give us a call. We look forward to a personal conversation.