Mediation of dream houses in Mallorca
Owning your own home in Mallorca is the dream of many people. Short transport connections make it possible to reach the island within a few hours from mainland Europe. As a primary residence or holiday property, it is well worth investing in a home of one's own, especially as the capital invested increases in value. In the municipalities of Palma, Calvià and Andraxt there is a large selection of interesting houses that no longer have to remain a dream. Exclusiva Mallorca will help you find the right property and make your dreams of living on the Balearic Islands come true. Through an informative consultation, you will find out what options are available to you.
Buy a house in Mallorca: Space for the whole family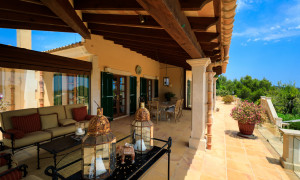 Mallorca has gained its popularity as a holiday island over the past decades. The mentality of the local population still contributes significantly to making guests feel completely at home. This special feeling is also reflected in the building stock, some of which looks back on a very long history. Typical island fincas and chalets are part of the culture and, together with their enchanting gardens, are more in demand than ever. They offer a wealth of space, providing places to live and retreat for the whole family. Especially in the outdoor area, the typical island homes score with large terraces, covered lounges and separate seating areas. Many fincas and houses located in larger residential complexes also have their own pool, which provides the right cooling in the warm summer months.
Well-designed floor plans and privacy protection
From the foot of the Tramuntana mountains, winding alleys and small streets run up to higher ground. With unobstructed views of the unique coastal scenery, the properties located here enjoy great popularity. In addition to small houses, villas and larger estates are among the sought-after properties in the southwest of Mallorca. Garden plantings and surrounding natural landscapes ensure the best possible privacy, which is also guaranteed inside the buildings. This attribute is also evident in shared housing complexes, and residents will find ample space inside as well. Open-plan living and kitchen areas are well thought out and create a perceptible volume of space that gains in size through high window openings. Bedrooms and other living areas are usually on a different floor, which encourages family living together under one roof.
Holiday homes with added value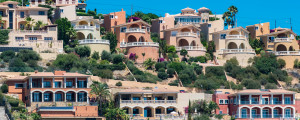 Buying a house in Mallorca can contribute to financial independence. As an investment property, a holiday home can be refinanced quickly and generates additional income through long-term rentals. This is an interesting investment field that is not only available to property developers and investors. Above all, private investors belong to the group for whom the acquisition of real estate on the island is most worthwhile. Outside their own time of use, the property can be released for rent and keeps itself. Rising property values also ensure a worthwhile gain.
Procurement of properties for sale and rent
Exclusiva Mallorca has made it its business to fulfil wishes for prospective tenants and buyers on the island. Feel free to contact us if you are looking for a dream home in the southwest of Mallorca.