Procurement of building and commercial plots in south-western Mallorca
Every year, the Balearic island attracts many new citizens who want to live here permanently or temporarily. The demand for living space is correspondingly high, but strict nature conservation regulations prevent Mallorca from being overbuilt. It is therefore becoming increasingly difficult for developers, private investors and companies to obtain building land. In one sub-segment, Exclusiva Mallorca has specialised in promoting and realising new construction projects. With more than 25 years of market expertise, Mr. Volker Hunzelder is not only one of the most experienced estate agents on the island, but has also been able to establish himself in the construction industry. If you are looking for a property on Mallorca, you have come to the right place.
Development of building plots
Even in a sought-after market, it is always possible to buy a plot of land. The only question is what to do with it after the purchase. Spanish authorities' requirements are considered particularly strict in many respects, and anyone who does not comply with them or forgets important documents will suffer the consequences. For example, every building project must go through a comprehensive examination procedure before a permit is granted. We will clarify which details need to be taken into account during a personal consultation. During this consultation, we will show you the possibilities of buying a plot of land and introduce you to building land on Mallorca.
Construction according to legal principles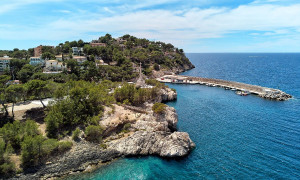 Investors and developers usually know in advance what kind of residential or commercial development they have in mind. Larger investments are often multi-apartment buildings and residential complexes that are urgently needed due to high demand. We are happy to check the feasibility of projects in advance and identify suitable locations in the southwest of Mallorca. When exploring the market, we make sure that the development complies with current legislation and contact the relevant authorities. In this way, the framework of what is possible can be defined even before the purchase. If the planned project is compatible with nature conservation requirements and other regulations, the next steps follow. Especially if needed living space is to be built, there is more room for manoeuvre.
Economic and commercial plots for new development
The type of use of land is regulated by the authorities and is similar to German differentiation criteria. This applies, for example, to commercial and residential use. Land that was once used for agriculture can be released for residential development in exceptional cases. A demolition order as well as a change in the development plan can help to allow new residential developments to be built. We would be happy to listen around the market for you to see where buildings that are currently ready for demolition are for sale and to contact the owners and the authorities.
Build a house on Mallorca
If you are planning to build a single-family house as your primary residence or holiday home, this wish can also be fulfilled. However, it usually takes some time to find a suitable property. With the search request, you have the opportunity to commission Exclusiva Mallorca with the search and also benefit from our comprehensive service and consulting services.